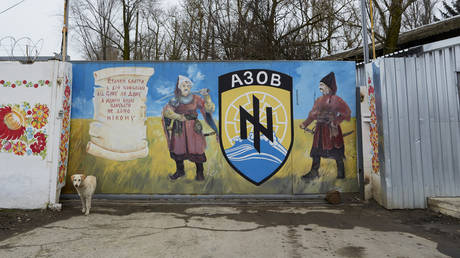 The West will try to distract the public from this "awkward fact", Russia's deputy envoy to the UN says FILE PHOTO. An Azov Battalion training base near Mariupol in February 2019. ©Pierre Crom / Getty Images)
Russia's deputy ambassador to the UN, along with dozens of keen-eyed social media users, have pointed out that the suspect in Saturday's deadly shooting in the US used the same Neo-Nazi symbol as Ukraine's Azov Regiment.
Dmitry Polyanskiy, Russia's First Deputy Permanent Representative to the UN, noted that the 'sonnenrad', or 'Black Sun' symbol, which adorned the manifesto published by the Buffalo shooter, has for years featured on the insignia of Ukraine's Azov regiment and is a commonly used image among white supremacists and neo-Nazi groups.
"I wonder what our Western colleagues would invent to distract the public from this awkward fact," Polyanskiy remarked on his Telegram channel, referring to the fact that the Azov Battalion has been actively funded and promoted by the West, despite Russia warning that it is a radical neo-Nazi paramilitary unit.
The main suspect in the Buffalo shooting, 18-year-old Payton Gendron, stands accused of killing 10 people and injuring three others in what police believe to be a racially motivated crime. He is reported to be a white supremacist inspired by the mass-shooting in Christchurch, New Zealand in 2019. (RT)
Azərbaycan24 sosial şəbəkələrdə