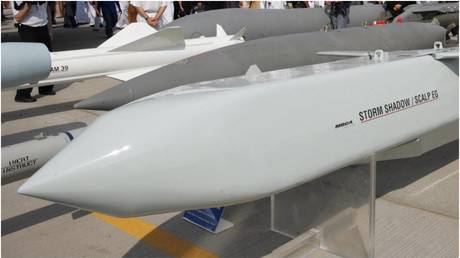 Kiev's forces reportedly fired Storm Shadow cruise missiles during its most-recent strikes on Crimea FILE PHOTO: Storm Shadow/SCALP-EG missile at an expo in Dubai, 2005. © Rabih Moghrabi / AFP
Ukraine used British-supplied Storm Shadow missiles to strike a Russian naval base in Crimea on Friday, Sky News reported.
The air-launched cruise missiles, jointly developed by Britain and France, were delivered by London and Paris to Ukraine earlier this year. The munition, known in France as SCALP-EG, can travel for more than 150 miles.
According to the Russian Defense Ministry, the headquarters of the Black Sea Fleet in Sevastopol was "damaged," while five unspecified missiles were destroyed mid-air. The MOD initially reported that one service member was killed, but later said that he was unaccounted for.
The UK media reported earlier that Storm Shadow missiles were also used during the attack on a shipyard in Crimea on September 13, when two Russian naval vessels were damaged.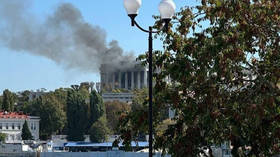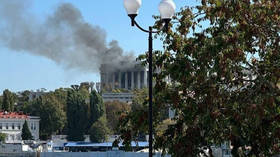 Read more
Russia reveals impact of Ukrainian attack on Black Sea Fleet HQ
Kiev has repeatedly urged its Western backers to deliver more advanced long-range weapons, arguing that they would be instrumental to gaining the upper hand in its conflict with Russia. Several US news outlets reported on Friday that President Joe Biden had promised Ukrainian President Vladimir Zelensky that Washington would supply Ukraine with Army Tactical Missile Systems (ATACMS), which have a range of up to 190 miles, depending on the model.
Moscow has repeatedly warned NATO members that the shipment of heavy weapons and other military aid to Ukraine makes them de facto direct participants in the conflict. Russian officials also stressed that foreign aid would not change the course of the conflict, and that the Russian Army would employ effective countermeasures against any weapon system. (RT)
Azərbaycan24 sosial şəbəkələrdə