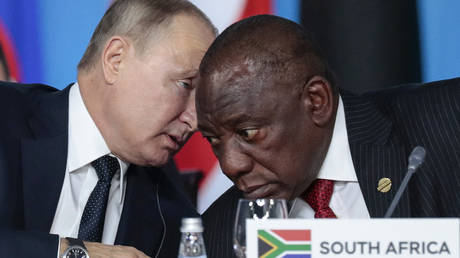 South Africa says a delegation will "engage and persuade" stakeholders on its "bipartisan" response to the Russia-Ukraine conflict © AFP / Sergei Chirikov
South Africa's President Cyril Ramaphosa has announced that he will dispatch an envoy to Washington to clarify Pretoria's stance on Russia and its leader, Vladimir Putin.
According to Obed Bapela, Deputy Minister in the Presidency for Performance Monitoring and Evaluation, the move comes in response to criticism of South Africa's "non-participant" and "non-aligned" position on the Russia-Ukraine conflict and the country's longstanding relationship with Moscow.
President Putin is scheduled to visit South Africa in August for the 15th BRICS Summit — and concerns have been expressed about whether Pretoria intends to act on the International Criminal Court's (ICC) arrest warrant issued against the Russian leader for alleged war crimes in Ukraine.
The South African Communist Party, in an April statement, asserted that the timing of the arrest warrant, issued just before Chinese President Xi Jinping's visit to Russia in March, indicated a political motivation and historical inconsistency.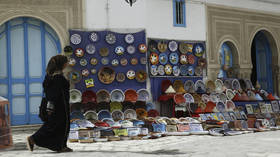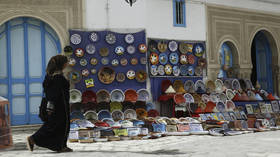 Read more
African state eyes turn to BRICS – media
"Unfortunately, imperialist powers continue to manipulate this multilateral institution and use it for judicial imperialism," the SACP wrote in a statement, according to local outlet News24.
The party added that "despite many calls, and ample evidence, the ICC has consistently refused to charge the likes of Netanyahu, Bush, Clinton, Blair and Obama who have destroyed countries and killed thousands of people."
In 2017, the ICC found South Africa in breach of its obligations by failing to arrest former Sudanese President Omar al-Bashir when he visited the country in 2015 for an African leaders' summit.
As a signatory to the Rome Statute establishing the court, Pretoria has sought legal advice on how to deal with the ICC order against Putin.
According to the presidency, the planned visit to Washington, which is not a member of the ICC, will allow South Africa to "engage and persuade" regarding its Russia position. Although the identity of the envoy heading the delegation has not been revealed, Bapela said that its members will be highly experienced and may include former ministers. (RT)
Azərbaycan24 sosial şəbəkələrdə