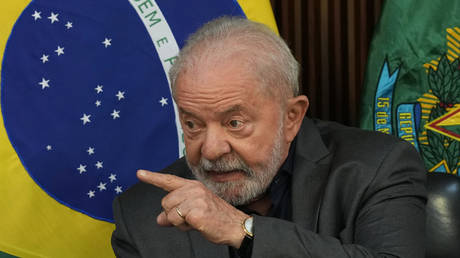 Lula da Silva had previously said that Kiev deserves some blame for the current conflict Lula da Silva points during a meeting with governors and leaders of the Supreme Court and the National Congress in Brasilia, Brazil, January 9, 2023 © AP / Eraldo Peres
Brazilian President Lula da Silva shot down an offer to sell tank ammunition to Germany for use in Ukraine, Brazilian newspaper Folha de Sao Paulo reported on Friday. A vocal critic of the West's policy toward Ukraine, Lula has striven to remain neutral on its conflict with Russia.
The president allegedly rejected the request at a meeting with Brazilian defense chiefs and Defense MInister Jose Mucio last week. According to the paper's sources, since-dismissed army commander Julio Cesar de Arruda told Lula that Germany wished to purchase just under $5 million worth of shells for its Leopard 1 tanks.
Lula reportedly considered asking Berlin to guarantee that it would not send the ammunition to Ukraine, but ultimately declined the offer, "arguing that it was not worth provoking the Russians," as Folha de Sao Paulo put it.
Less than a week later, Germany formally announced that it would donate a company-sized force of Leopard 2 main battle tanks to Ukraine, and would allow other countries operating the tanks to transfer them to Kiev. It is unclear whether the ammunition referenced by Folha is compatible with both generations of Leopard tank.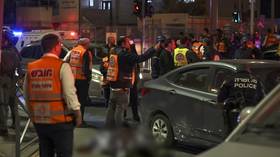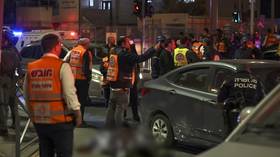 Read more
Eight killed in Jerusalem terrorist attack
Like his right-wing predecessor, the left-wing Lula has taken a neutral position on the conflict in Ukraine. While Jair Bolsonaro's government formally condemned Moscow at the UN General Assembly over its military operation, neither president has imposed sanctions on Russia, and each has partially blamed Ukrainian President Vladimir Zelensky for the outbreak of hostilities.
Lula has condemned the US for pouring tens of billions of dollars into Ukraine's government and military, and suggested last year that US President Joe Biden "could have avoided [the conflict], not incited it." He also declared that NATO leadership should have reassured Russia that Ukraine would never be allowed to join the US-led military bloc, which was one of Moscow's key demands for peace before it sent troops into the country. (RT)
Azərbaycan24 sosial şəbəkələrdə