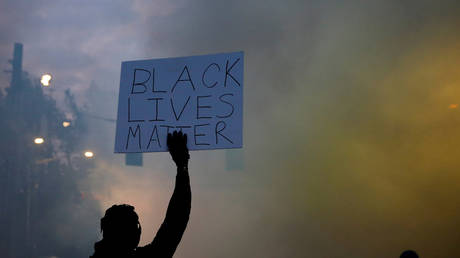 US public opinion on the death of George Floyd in Minneapolis police custody has shifted since the early days of last year's Black Lives Matter protests, with trust in law enforcement growing after violent unrest in the streets.
Just 36 percent of respondents in a USA Today/Ipsos poll released on Friday described Floyd's death as murder, down from 60 percent last June. The racial divide in how the May 25 tragedy is viewed is startling, with 64 percent of black poll participants and just 28 percent of whites saying Floyd was murdered.
The 24-point plunge in public confidence that Floyd was murdered comes to light just three days before Derek Chauvin, the police officer who was shown on video kneeling on Floyd's neck, is scheduled to go to trial on murder and manslaughter charges. The shift came amid a decline in the BLM movement's credibility and rising trust of law enforcement, and both of those trends coincided with riots across the nation.
Also on rt.com 'Where's our restitution?' Ferguson activists & Mike Brown Sr. demand BLM cough up $20 MILLION, a fraction of its global donations
Public trust in BLM has dropped to 50 percent this month from 60 percent last June, the poll showed. Just 42 percent of white respondents said they trusted BLM. Trust in police and local law enforcement swung conversely, rising to 69 percent, including 77 percent of whites and 42 percent of blacks.
But while the racial divide is wide, public opinion has shifted against BLM among both white and black Americans. According to the poll, trust in BLM has dropped 12 percentage points among black people since last June, while trust in the police has jumped 14 points. The percentage of white people who trust BLM fell by eight points, while their trust in police rose 12 points.
Along the same lines, Americans were about equally divided on the relative importance of protest rights and law and order last June. At the time, 45 percent said ensuring law and order was more important, and 44 percent said the right to protest is more vital. In the latest poll, 49 percent of respondents favored law and order, while 31 percent said protest rights were more important. The racial divide was evident on that question, too, with whites favoring law and order and blacks prioritizing protest rights. (RT)