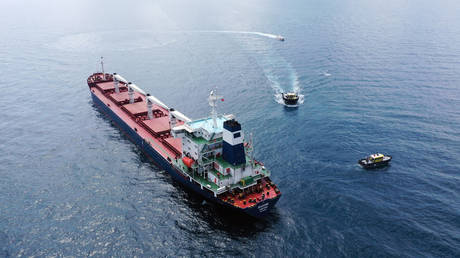 Russia has reportedly restricted access to one Ukrainian port until Kiev reactivates a fertilizer pipeline FILE PHOTO: The cargo ship Razoni, carrying Ukrainian grain from Odessa destined to Lebanon, anchors outside the Black Sea entrance of the Bosphorus Strait. © Ali Atmaca / Anadolu Agency via Getty Images
Russia has notified the Joint Coordination Center in Istanbul it will restrict the passage of grain ships to the port of Yuzhny until Ukraine reopens the Togliatti-Odessa ammonia pipeline, UN spokesman Stephane Dujarric told reporters on Thursday.
Dujarric said that Director General Rebecca Greenspan of the UN Conference on Trade and Development (UNCTAD) is working to resolve the pipeline issue, but there was no progress to report yet, according to the TASS news agency.
The UN also expressed concern that the implementation of the deal has slowed down, with only 33 ships leaving Ukrainian ports in May, "two times less than in April." Meanwhile, the number of inspection teams has been reduced from three to two.
Yuzhny is one of the three ports covered by the July 2022 Black Sea Initiative, the others being Chernomorsk and Odessa. The agreement mediated by the UN and Türkiye provided for the shipments of Ukrainian grain by sea, as well as the unblocking of Russian agricultural exports – but only the first part has been implemented.
On May 17, Moscow agreed to extend the deal for another 60 days. Turkish President Recep Tayyip Erdogan announced the decision on the eve of the presidential election, which he went on to win in the runoff.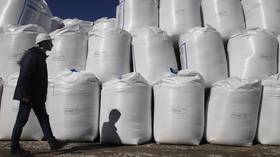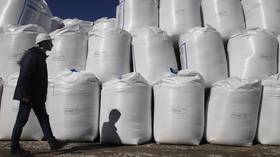 Read more
Lavrov issues update on Russian fertilizer shipments to Africa
In a Facebook post on Thursday, Ukraine's ministry of renovation and infrastructure accused Russia of "another unjustified refusal … to register the incoming fleet."
A senior official in Kiev told Reuters, on condition of anonymity, that Ukraine would consider reopening the Togliatti-Odessa pipeline if the Black Sea deal was expanded to include more ports and more commodities.
Speaking to reporters earlier in the day, Russian Deputy Foreign Minister Sergey Vershinin said that none of the five issues Moscow had identified with the deal – of which the Togliatti-Odessa pipeline was but one – have been addressed by the UN,
"Our position remains unchanged – the export of ammonia is part of the existing agreements and was supposed to start simultaneously with the transportation of Ukrainian grain," Vershinin said, adding that without addressing the five issues, there is no point in discussing the extension of the grain deal beyond July 17.
The deal was originally trumpeted in Ukraine and the West as a breakthrough in addressing food shortages in Africa and parts of Asia. According to data revealed by the Turkish Ministry of Commerce last week, however, 47% of the Ukrainian exports went to EU countries, and only 27% reached places like Egypt, Kenya, and Sudan.
More than 30 million tons of grain have been transported by 953 ships since August 2022, with corn making up 50% of the cargo and wheat another 27%. Much of the grain was not for human consumption, but marked as animal feed. According to the research one Austrian outlet published in February, almost half the grain that made its way to the EU ended up as fodder for pigs raised by Spanish ham producers. (RT)
Azərbaycan24 sosial şəbəkələrdə