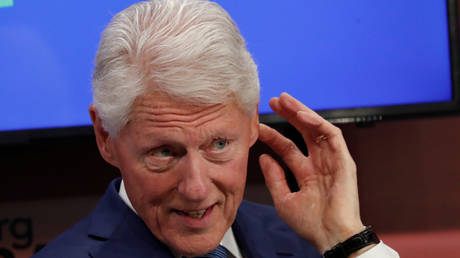 According to a new book about the disgraced financier Jeffrey Epstein, former President Bill Clinton had an affair with Ghislaine Maxwell, a close associate of the late sex offender accused of procuring underage women for him.
"Clinton was allegedly carrying on an affair with at least one woman in Epstein's orbit, but she was well over the age of consent," claim authors Alana Goodman and Daniel Halper in 'A Convenient Death: The Mysterious Demise of Jeffrey Epstein', due out next month.
Rumors about the former president's involvement with convicted sex offender Epstein have swirled on social media since the billionaire was arrested last year on charges of sex trafficking minors. Epstein later died in a jail cell in New York in a death officially deemed a suicide, but details surrounding it have inspired plenty of conspiracy theories about possible foul play.
Clinton denied knowing anything of Epstein's crimes, but he admitted to being jetted around multiple times on Epstein's customized Boeing 727 that is now known to many as the 'Lolita Express', as it would allegedly fly men to Epstein's private island in the Virgin Islands where they allegedly engaged in sex with minors.
Also on rt.com Hillary ditches pantsuits for Covid face-mask with a message, is immediately MEMED to death with reminders of scandals
A new Netflix documentary includes an interview with a former worker for Epstein, Steve Scully, who confirms seeing Clinton with Epstein on the island. Virginia Giuffre, who has accused Epstein and Maxwell of forcing her to have sex with Prince Andrew, also saw Clinton on the island, though said she didn't see him do anything improper with minors.
According to the new book though, Clinton kept a close relationship with Epstein only to carry on an affair with Ghislaine Maxwell, a British socialite who has been accused of procuring minors for the island. (RT)