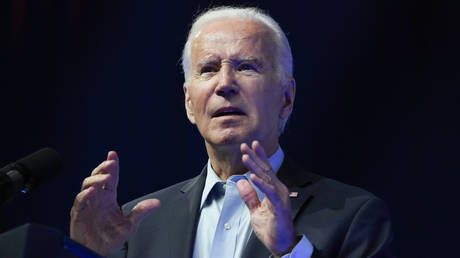 The US leader has sounded alarms over Moscow's upcoming missile deployments in Belarus FILE PHOTO: President Joe Biden speaks at a political rally at the Philadelphia Convention Center in Philadelphia, Pennsylvania, June 17, 2023. © AP / Manuel Balce Ceneta
President Joe Biden has claimed there is a "real" threat that Russia will use tactical nuclear weapons, soon after the Kremlin announced that it would station some of its arsenal in a friendly neighboring state.
Speaking to a group of donors in California on Monday, Biden suggested that Russia's moves in Belarus could be a sign that it is preparing to use its smaller-yield tactical nukes, despite recent comments from the White House acknowledging no "imminent indication" of any such attack.
"When I was out here about two years ago saying I worried about the Colorado river drying up, everybody looked at me like I was crazy," he said, adding "They looked at me like when I said I worry about [Russian President Vladimir] Putin using tactical nuclear weapons. It's real."
The statement came after the president slammed Russia's upcoming deployments as "totally irresponsible" over the weekend. He previously told reporters he felt "extremely negative" about the decision.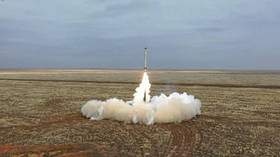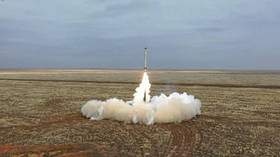 Moscow and Minsk finalized an agreement on hosting tactical nuclear weapons on Belarusian territory last month. According to Russian Defense Minister Sergey Shoigu, the atomic warheads will be mounted on Iskander-M missiles and fighter jets specifically modified for the purpose.
Russia first revealed that talks for the deployments were underway in March, and said the decision was a response after Britain supplied depleted uranium munitions to Ukraine last year. On Friday, Russian President Vladimir Putin told his Belarusian counterpart Alexander Lukashenko that "everything is going according to plan," adding that preparations for the missiles would be completed by July.
Responding to critical reactions from US officials, the Russian Embassy in the United States previously accused Washington of hypocrisy on the issue, pointing to some 150 American nuclear missiles stationed across Western Europe and Türkiye.
"The United States has been for decades maintaining a large arsenal of its nuclear weapons in Europe. Together with its NATO allies it participates in nuclear-sharing arrangements and trains for scenarios of nuclear weapons use against our country," it said, adding "Before blaming others, Washington could use some introspection." (RT)
Azərbaycan24 sosial şəbəkələrdə