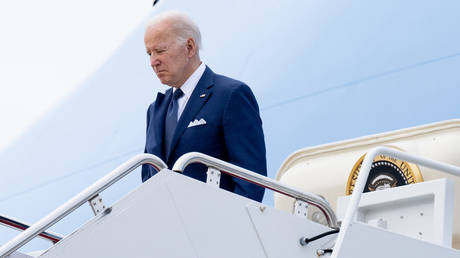 The US president has vowed that he won't be "kept out" of Northern Ireland US President Joe Biden disembarks from Air Force One. © AFP / Saul Loeb
US President Joe Biden has claimed that the decision by the UK's main domestic security service to raise the terrorism threat level in Northern Ireland will not prevent him from visiting the region.
"No. They can't keep me out," Biden said on Tuesday when asked if the move by MI5 would affect his plans to travel to Northern Ireland next month.
The White House has yet to officially confirm the US leader's planned trip to Belfast on the 25th anniversary of the Good Friday Agreement, which was signed on April 10, 1998.
However, Biden is reportedly expected to visit Northern Ireland for the occasion together with former President Bill Clinton, who brokered the landmark deal.
The Good Friday Agreement saw nationalists and unionists in Northern Ireland agree to share power after three decades of violence, with their respective armed paramilitary groups laying down their weapons in exchange for the release of political prisoners.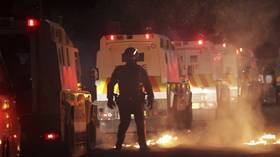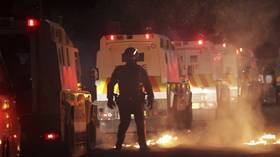 The country has since witnessed only sporadic attacks on security forces, carried out by splinter groups of the Irish Republican Army (IRA) that opposed the accord.
On Tuesday, MI5 announced an increase in the terrorism threat level in Northern Ireland from 'substantial' to 'severe'.
The UK's Northern Ireland secretary, Chris Heaton-Harris, said that "in recent months, we have seen an increase in levels of activity relating to Northern Ireland-related terrorism, which has targeted police officers serving their communities and also put at risk the lives of children and other members of the public."
In February, a police detective was shot by two masked gunmen as he coached a children's soccer team in the town of Omagh, some 60 miles (almost 100km) west of Belfast. Police have described the man's injuries as "life-changing." A dissident group known as the New IRA claimed responsibility for the attack.
The UK has five terror threat levels, with 'severe' meaning that an attack is highly likely. It is the second-highest rating, behind 'critical'.
Northern Ireland's threat level was only lowered to 'substantial' last year after remaining at 'severe' since 2010. The level for the rest of Britain has been at 'substantial' since last February. (RT)
Azərbaycan24 sosial şəbəkələrdə