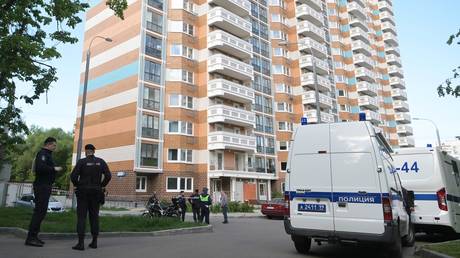 The attacks can be considered legitimate from the point of view of international law, a German government spokesman claims Police officers are seen outside an apartment block damaged during Ukrainian drone in Moscow, Russia. © Sputnik / Aleksey Nikolskyi
Berlin considers Ukrainian attacks on Russian territory to be "legitimate," as long as they involve Ukrainian-made weaponry, government spokesman Steffen Hebestreit has said.
Hebestreit made the remarks at a media briefing on Wednesday, responding to a question on the recent large-scale drone attacks on Moscow. He was asked whether Germany considers such attacks to be "legitimate" if they involve Ukrainian-made weaponry only.
"I provided not an assessment of the [drone attack on Moscow] itself, but an assessment from the standpoint of international law. International law considers such strikes legitimate," the spokesman stated.
Moscow came under attack by several drones early Tuesday morning, none of which hit any military targets. Three were suppressed by electronic warfare measures and deviated from their intended course, while five others were shot down by anti-aircraft defenses, according to the Russian military.
Several residential buildings were damaged in the attack, with two people suffering minor injuries. The Russian Ministry of Defense described the drone raid as a terrorist attack staged by the "Kiev regime."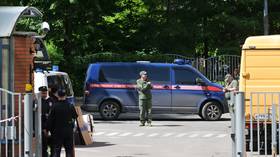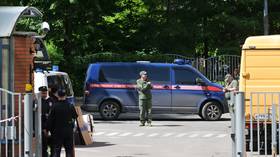 The attacks came as Moscow ramped up its missile and drone attack against Ukrainian military installations, ammunition and fuel depots, and 'decision-making centers' responsible for plotting similar acts of terrorism, according to the Russian Defense Ministry.
Russian President Vladimir Putin confirmed on Tuesday that the headquarters of the Ukrainian military's Main Intelligence Directorate (GUR) was among the targets hit. The ultimate goal of Kiev's attacks on Moscow and elsewhere was an attempt to "intimidate" Russian citizens, which is a "clear sign" of "terrorist activity" on Kiev's part, Putin stated. Ukraine is also apparently seeking to provoke a "mirror response" from Russia, the president added.
The drone raid on Moscow received a mixed reaction among Kiev's Western backers. A US White House spokesperson stated that, "as a general matter, we do not support attacks inside Russia." Meanwhile, the attack was cheered by London, with UK Foreign Secretary James Cleverly praising Ukraine's purported effort to "project force," while claiming that Kiev has the right to attack unspecified "legitimate military targets" anywhere it pleases. (RT)
Azərbaycan24 sosial şəbəkələrdə