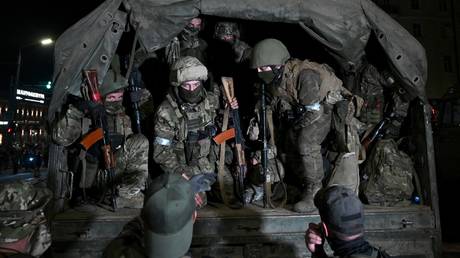 Alexander Lukashenko says he doesn't expect the private military company to cause any trouble in his country Members of the Wagner private military company leaving the area of the Southern Military District headquarters in Rostov-on-Don, Russia. © Sputnik / Sergey Pivovarov
Wagner troops could be used to defend Belarus after they relocate from Russia, where they took part in a failed revolt last month, President Alexander Lukashenko has said.
Military personnel attached to Evgeny Prigozhin's private military company are being transferred to the country subject to "certain conditions," including that they can be deployed instantly if they're needed to "defend the state," he explained.
"I'm absolutely not worried and not troubled that we'll have a certain number of these fighters stationed here [in Belarus]," Lukashenko told journalists on Thursday.
The likes of Polish President Andrzej Duda and his Ukrainian counterpart Vladimir Zelensky have vowed that "they won't leave Belarus alone," Lukashenko said, adding that "he must react" to such threats as supreme commander of the armed forces.
"The experience that Wagner and its commanders have, they'll gladly pass it on to our military…. The ones that we need: in tactics, combat operations," he continued. Wagner was instrumental in the capture of the strategic city of Artyomovsk (Bakhmut) from Ukraine in May. The PMC has also operated in Syria and Africa.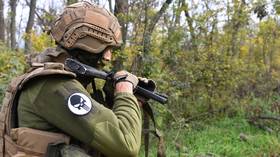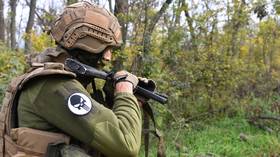 When asked about the possibility of Wagner attempting a mutiny in Belarus like they did in Russia last month, Lukashenko replied: "I don't think that Wagner will somehow rise up and turn its guns against the Belarusian authorities and the Belarusian state. Everything happens in life. But today I don't see such a situation."
He also provided information regarding the whereabouts of Prigozhin, saying the Wagner head is currently not in Belarus, but in Russia, and that they had talked the previous day.
Kremlin Press Secretary Dmitry Peskov said on Thursday that the Russian authorities "don't have either the ability or desire" to track Prigozhin's movements. All of the statements made by Moscow and Belarus regarding the fate of Wagner in the wake of the failed mutiny "remain relevant," he added.
In a short message on social media earlier this week, Prigozhin claimed that the botched uprising by his men was aimed at "fighting traitors and mobilizing the society" of Russia. "I think we succeeded in many of those goals," he claimed.
The two-day insurrection by Wagner in late June was ended through talks between Lukashenko and Prigozhin in close coordination with Russian President Vladimir Putin. According to Moscow, it was agreed that the Wagner chief and his men who took part in the mutiny would avoid prosecution. As part of the deal, Prigozhin left for Belarus, with his men offered the choice of following him, signing contracts with the Russian military, or returning home. (RT)
Azərbaycan24 sosial şəbəkələrdə