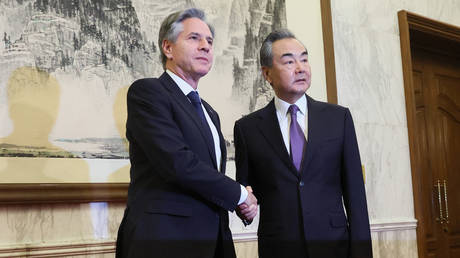 There is "no room to compromise" on Taiwan, Chinese top diplomat Wang Yi has told US Secretary of State Antony Blinken China's top diplomat Wang Yi shakes hands with US Secretary of State Antony Blinken during their meeting in Beijing. © AFP / Leah Millis
The US should respect the One China principle and stop supporting Taiwan's push for independence from Beijing, Chinese top diplomat Wang Yi has told US Secretary of State Antony Blinken.
"China has no room to compromise or concede" on the status of Taiwan, Wang told Blinken during a meeting at the Diaoyutai State Guest House in Beijing on Monday.
"The US must truly adhere to the One China principle… respect China's sovereignty and territorial integrity, and clearly oppose 'Taiwan independence'," the director of the Central Foreign Affairs Commission office of the Chinese Communist Party was quoted by local media as saying.
Washington's support for sovereignty in Taiwan, a self-governed island of 23.5 million which Beijing views as part of its territory, has been among the issues aggravating tensions between China and the US in recent years.
According to Wang, bilateral relations have now reached "a critical juncture." He told Blinken that Washington needs to make a choice "between dialogue or confrontation, cooperation or conflict" with Beijing.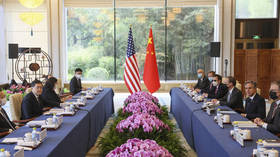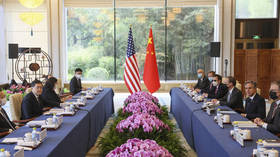 "We must take a responsible attitude toward the people, history and the world, and reverse the downward spiral of US-China relations," he said.
China's top diplomat also called upon the Biden administration to stop making threats towards Beijing and abandon its "suppression" of Chinese scientific and technological development.
According to the US State Department, Blinken stressed the importance of "responsibly managing the competition" between the US and China "through open channels of communication to ensure competition does not veer into conflict."
He also told Wang that Washington will "continue to use diplomacy to raise areas of concern and stand up for the interests and values of the American people."
Blinken is the first US secretary of state to visit Beijing in five years. His trip was initially scheduled to take place in February, was postponed due to the so-called "spy balloon" incident. Washington claimed it shot down a Chinese surveillance aircraft over its territory, while Beijing said it was merely a weather balloon, which had strayed into American airspace by accident.
Following his meeting with Wang, Blinken held talks with Chinese President Xi Jinping. His two-day visit also included negotiations with China's recently appointed Foreign Minister Qin Gang on Sunday. (RT)
Azərbaycan24 sosial şəbəkələrdə