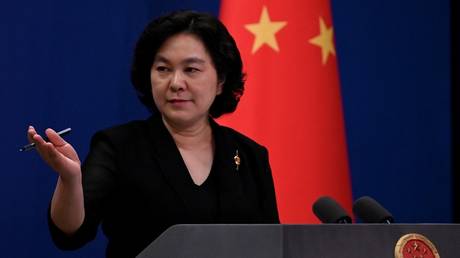 G7 members criticize China while overthrowing foreign governments and engaging in coercive practices, the country's foreign ministry has said Assistant Minister of Foreign Affairs Hua Chunying gestures during a press conference at the Ministry of Foreign Affairs in Beijing on August 3, 2022. © Noel Celis / AFP
The G7 countries will not be able to trick the world into believing that Beijing is undermining global stability, Chinese foreign ministry spokeswoman Hua Chunying said on Monday.
In a series of posts on Twitter, Hua blasted such a stance, writing: "Some G7 members called China 'the biggest threat to global security and prosperity'. Seriously?"
She was apparently referring to remarks by British Prime Minister Rishi Sunak, who said during the group's summit in Hiroshima, Japan, that "China poses the greatest challenge to global security and prosperity in our time," as he called for decreasing dependence on Chinese supply chains.
He added that the UK and G7 were taking steps to prevent Beijing from using "economic coercion to interfere in the sovereign affairs of others."
"If China is a threat, then what are some G7 members that go for wars on sovereign states, overthrow legitimate foreign governments, exit multilateral treaties and coerce other countries to sever supply chains?" Hua asked.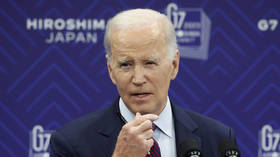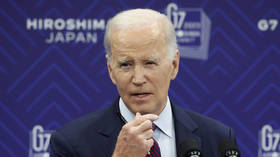 Read more
Biden predicts China 'thaw'
The spokeswoman went on to emphasize China's place as "the No.1 engine of global economy," and that Beijing was contributing to global growth more than all G7 members combined while being the second largest donor to UN peacekeeping funding.
"The real world will not be brainwashed and fooled," she said.
Sunak's rebuke of China appeared to be much tougher than G7 joint communique outlining challenges posed by Beijing. The group's members, in particular, insisted that they are "prepared to build constructive and stable relations with China," adding that "we are not decoupling or turning inwards" when it comes to economic ties with the Asian giant.
However, the G7 stressed the need for what it called "de-risking and diversifying" and reducing "excessive dependencies in our critical supply chains." The group also scolded Beijing for "non-market policies and practices, which distort the global economy," vowing to build resistance to what it termed economic coercion.
China's foreign ministry was not convinced, however, stating that "massive unilateral sanctions and acts of 'decoupling'… make the US the real coercer" while urging the G7 not to become Washington's "accomplice" in this regard. (RT)
Azərbaycan24 sosial şəbəkələrdə