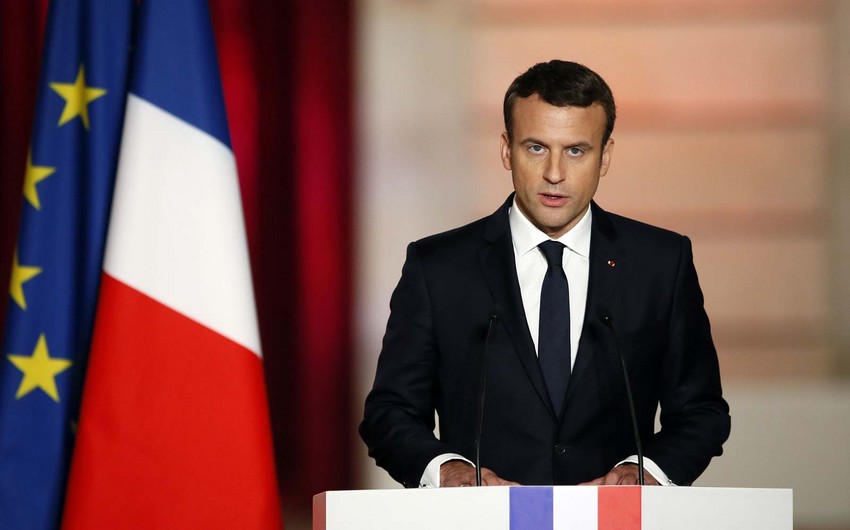 A group of Azerbaijani non-governmental organizations, independent parliamentarians and lawyers have addressed an appeal to French President Emmanuel Macron, Report informs.
The appeal says that the Republican Party's presidential candidate in France, President of the Ile-de-France region Valérie Pécresse, accompanied by Michel Barnier and Bruno Retailleau, illegally visited Khankandi on December 22, and secretly crossed Azerbaijan's international borders recognized by the world community, including France.
"This illegal visit grossly violates the laws of the civilized world. At a time when steps are being taken to sign a peace agreement between Azerbaijan and Armenia, normalize relations and build trust between the two peoples, Ms. Pécresse's illegal visit and attempts to turn this visit into a tool of election propaganda aims to aggravate the situation in the post-war region deliberately and undermine peace efforts.
"Does she need this step to mobilize voters? However, no internal election campaign can justify such behavior. We strongly condemn this irresponsible step. Ms. Pécresse and some of her advisers, as well as representatives of the Armenian Diaspora, try to present the conflict differently in the press and on social networks and voice degrading views against the Azerbaijani state and people regarding people's religious identities, which is an open call for hatred against the Azerbaijani people.
In a country like France, where the separation of religion from politics and human values form the cornerstone of the state, the inculcation of open hatred against a nation does not fit into any moral and universal values, and we are very surprised. Their attempts to present the conflict as a religious one can be seen as a characteristic of crusader thinking. Can it be said that the sovereign state of the French Enlightenment is once again under pressure from obscure views?
Ms. Pécresse says she can go anywhere she wants as a candidate. She, of course, can enjoy the freedom of movement in France and the European Union, of which France is a member, and freely go wherever she wants and campaign for the election. However, in order to come to Azerbaijan, she had to apply to the relevant authorities of Azerbaijan and get permission to enter the country. Her secret entry into the territory of Azerbaijan without such permission grossly violates the legislation of Azerbaijan, as well as the requirements of French national legislation, as well as international and bilateral obligations," reads the appeal.
The appeal noted that France is one of the three co-chairs of the OSCE Minsk Group established to resolve the 28-year-old conflict between Armenia and Azerbaijan:
As a co-chairing state, France has an obligation to maintain neutrality between the parties and support peace efforts. France and Azerbaijan recognize each other's international borders, both bilaterally and multilaterally, reaffirm mutual respect for their territorial integrity and develop friendly relations. The agreement signed between the two countries on December 20, 1993, serves to build friendship and cooperation and imposes obligations on them in accordance with the principles and norms of international law.
According to the French constitution adopted in 1958, foreign policy issues are the exclusive prerogative of the central government. Territorial units – municipalities, departments, regions – may not engage in the foreign policy of the state and infringe on its international obligations (Articles L.1115-1 and subsequent articles of the General Code of Territorial Units). In this regard, the circular number NOR / INTB1809792C was signed on May 24, 2018 by the Ministers of Internal Affairs and European and Foreign Affairs of France. Mr. President, given the requirements of French national legislation, we ask you to take the necessary measures to prevent such illegal visits and stop the recurrence of such cases in the future."
Signatories of the appeal:
1. Tural Ganjaliyev – independent MP
2. Etibar Aliyev – independent MP
3. Vugar Bayramov – independent MP
4. Zaur Sadigbayli – lawyer, France
5. Mayisa Aghamirzayeva – Coordinator of the Dutch-Belgian Azerbaijanis Coordination Council for the Netherlands
6. Yashar Musayev – Chairman of the Board of the Alliance of Azerbaijanis of Germany
7. Rashad Ibrahim – Co-Chair of the Federation of Azerbaijanis in Belgium
8. Arzu Hasanova – Deputy Director of the Luxembourg "Karabakh" Azerbaijan Cultural Association
9. Alimammad Nuriyev – lawyer, President of the Foundation for Constitutional Studies
10. Sahib Mammadov – lawyer, chairman of the League for the Protection of Citizens' Labor Rights
11. Chingiz Ganizade – lawyer, chairman of the Committee on Democracy and Human Rights
12. Zaur Ibrahimov – Chairman of the "Priority" Center for Socio-Economic Research
13. Gunel Safarova – lawyer, chairman of the "Citizen" Research and Development Public Union
14. Novela Jafarova – lawyer, chairman of the Society for the Protection of Women's Rights of Azerbaijan named after D. Aliyeva
15. Saltanat Gojamanli – lawyer, chairman of the Public Union for the Protection of Human Rights and the Rule of Law
16. Hafiz Hasanov – lawyer, chairman of the Law and Development Public Union
17. Saadat Bananyarli – human rights activist, chairman of the Azerbaijan National Branch of the International Human Rights Society
18. Fatma Sattarova – Chairman of the Organization of War, Labor and Armed Forces Veterans of the Republic of Azerbaijan, participant of World War II
19. Rey Karimoglu – Chairman of the Association of Mine Victims in Azerbaijan, Deputy Chairman of the Karabakh Veterans' Public Union
20. Ramil Iskandarli – Chairman of the Public Union for Legal Analysis and Research
21. Mayis Aliyev – Chairman of the Research of Social Rights Public Union
22. Khalid Kazimov – Chairman of the Regional Human Rights and Media Center Public Union
23. Khanim Ahmadzadeh – Chairman of the Women Lawyers Association
24. Rafail Bejanov – Chairman of the Human Rights and Education Public Union
25. Samad Vakilov – Chairman of the Attorney Legal Center
26. Vusala Huseynli – Chairman of the Reformist Women and Innovations Public Union
27. Shahin Jamalov – Head of the Human Rights XXI Century-Azerbaijan Foundation
28. Rafig Ismayilov – Director of the For Civil Society Independent Advice and Assistance Center
29. Mehriban Zeynalova – Chairwoman of the "Clean World" Women's Aid Public Union
30. Kamala Aghazade – Chairman of the Azerbaijani Children Public Union
31. Vugar Gadirov – Chairman of the Youth Organization of Refugees and Internally Displaced Persons of Azerbaijan
32. Mahira Amirhuseynova – Chairman of the Women of the XXI Century Public Union
33. Mehriban Abdullayeva – Chairman of the Democratic Society and Protection of Women's Rights Public Union
34. Khatira Valiyeva – Chairwoman of the Khankandi IDP Support Public Union