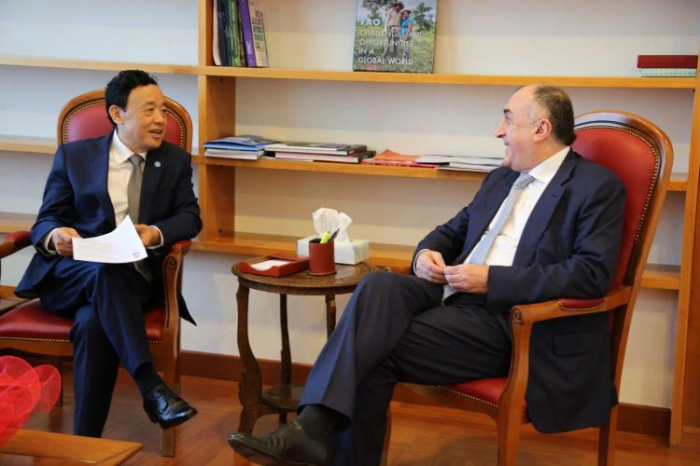 Azerbaijan's Foreign Minister Elmar Mammadyarov has met with Director-General of the Food and Agriculture Organization of the United Nations (FAO) Qu Dongyu.
Congratulating Qu Dongyu on his election as the Director-General of FAO, Minister Mammadyarov wished him success in his activities, and expressed his confidence that cooperation between Azerbaijan and FAO would continue to strengthen.
Expressing his gratitude for the congratulations, Director-General Qu Dongyu hailed his meeting with Elmar Mammadyarov as the first foreign minister he meets in his current position, and regarded Azerbaijan as the most effectively cooperating country with FAO. Qu Dongyu highly appreciated the activities of Vice-President of the Heydar Aliyev Foundation Leyla Aliyeva as Goodwill Ambassador of the FAO and called the establishment of FAO Partnership and Coordination Office in Azerbaijan as a positive experience.
FM Elmar Mammadyarov said that military occupation of part of suitable agricultural lands of Azerbaijan since the first years of restoration of independence of the country and having more than 1 million refugees and IDPs as a result of the occupation, seriously affected the agriculture sector of the country and posed serious problems in ensuring food security.
Elmar Mammadyarov briefed the Director-General on the achievements in the agricultural and food production sector, as a result of the economic diversification, government support for the agricultural sector and the reforms carried out in this direction. Highlighting the importance of the country's cooperation with FAO, Minister Elmar Mammadyarov emphasized the contributions of Vice-President of the Heydar Aliyev Foundation, founder of IDEA Public Union Leyla Aliyeva.
The sides exchanged views on prospects for development of Azerbaijan-FAO cooperation, as well as the development of this cooperation within the South-South Partnership framework and involvement of third parties.
Following the meeting, Minister Mammadyarov visited the "Azerbaijan Room" established with the support of the Heydar Aliyev Foundation at the FAO Headquarters. Minister Mammadyarov was informed that the "Azerbaijan Room", reflecting the culture and national spirit of Azerbaijan, is highly appreciated by FAO officials for its design, attractiveness and practicality.