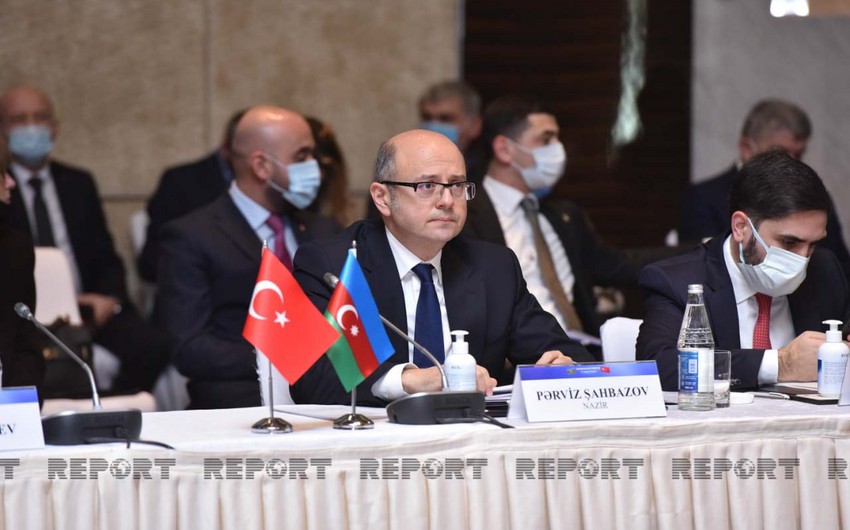 "At present, the prospects for the export of electricity from Nakhchivan to Turkey, the development of a tripartite format in the field of electricity, projects, as well as proposals of Turkish companies on the 550 MW gas turbine power plant are being evaluated," Azerbaijani Energy Minister Parviz Shahbazov said at the 1st Azerbaijan-Turkey Energy Forum in Baku, Report informs.
"Turkey shares with us its rich experience in the development of renewable energy and the liberalization of the electricity market, which supports the joint steps of our countries in the process of energy transformation," the minister said.
Electricity exports from Azerbaijan to Turkey increased to 517 million kilowatt-hours in the first 11 months of this year. According to him, Azerbaijan and Turkey successfully combine oil and natural gas projects with cooperation in the electricity sector. The Azerbaijan-Georgia-Turkey energy bridge is an example of this.
"The global energy sector is currently undergoing a process of transformation stemming from "climate neutrality." Targets are set at the national level, taking into account global energy trends. Efforts to contribute to regional cooperation in the field of electricity to strengthen the security of energy regional supply are urgent. This is also emphasized in the Shusha Declaration as an important direction in our energy partnership. In this regard, renewable energy use and energy efficiency, electricity market, distribution, transmission and regulation of electricity are new directions in the Azerbaijani-Turkish energy cooperation in line with modern challenges and goals of our countries, the main priorities of the Energy Forum," the minister noted.
Shahbazov believes that there are now all the necessary conditions for success in the field of "green energy": "The main motivator of our new level of energy cooperation is the vision of the President of Azerbaijan to support green energy in achieving a clean environment and green growth in the National Priorities of our country until 2030, as well as the initiative for the liberated areas to become a zero-emission Green Energy Zone.
About 27,000 megawatts of renewable energy in Azerbaijan, 7,200 megawatts of solar energy in the liberated territories, 2,000 megawatts of wind energy potential, rich inland water resources, as well as planned auctions for a total of 700 megawatts wind and solar energy projects, construction of a 100-megawatt wind farm in the Lachin-Kalbajar zone and the creation of a green energy zone open wide horizons for Turkish investors. Especially in the process of transforming Karabakh and East Zangazur into a 'green energy' zone, our extensive cooperation with Turkish companies can be attractive but also a symbol of our solidarity."