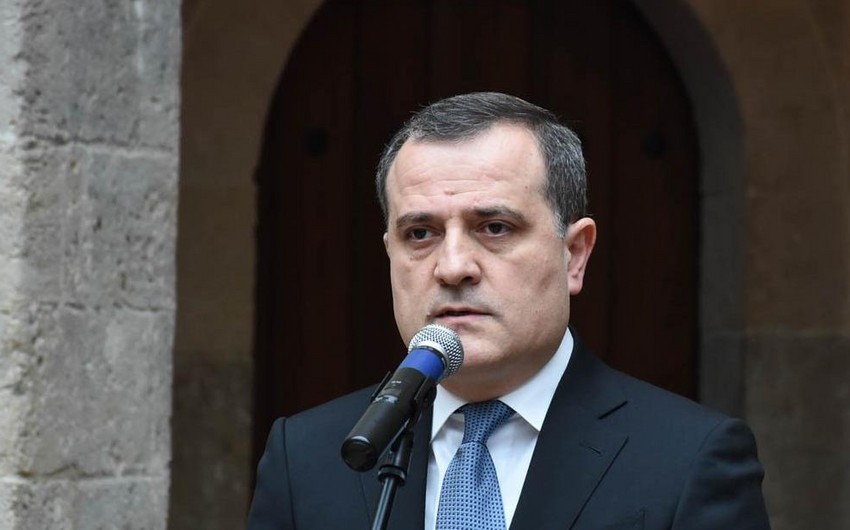 As a regional organization, GUAM provides an important platform to build sustainable peace and development. Our cooperation is based on shared commitment and respect to the universally recognized rules and principles of international law, mutual trust, and respect for each other's interests. These have enabled us to register important achievements across a wide range of areas, including trade and economic cooperation and people-to-people exchange, Azerbaijani Foreign Minister Jeyhun Bayramov told the 37th meeting of the GUAM Council of Foreign Ministers, Report informs.
The foreign minister added that in 2021, under the Georgian chairmanship, the parties made serious efforts to further advance their interaction in a coordinated, action-oriented, and forward-looking manner.
"I believe our cooperation can further develop by strengthening the project-oriented dimension of activities. It is necessary to continue focusing primarily on joint economic projects in spheres like trade, transportation, ICT, and tourism, as they will gain new opportunities for cooperation in the post-pandemic period. As for the sectoral cooperation, I am pleased to inform that we are finalizing internal procedures necessary for signing the 'Protocol on regulations determining the country of origin of goods' and the GUAM Consular Convention," the minister added.
Azerbaijan remains a strong supporter of enhanced cooperation in the framework of "GUAM+" format aimed at ensuring peace, security, stability, and prosperity at both regional and inter-regional levels. Azerbaijan welcomes GUAM-Israel Joint Declaration, which was planned to be signed today. We have strong relations with our partners, but extra effort is needed to bolster cooperation with all our partners, including by revising the cooperation agendas with the other partners and designing our work based on common priorities.
The communique of the 13th session of the GUAM Parliamentary Assembly reiterates the intention to continue cooperation with international and regional interparliamentary associations. In this regard, GUAM PA might also consider strengthening inter-parliamentary cooperation with other states at bilateral and multilateral levels as means of consolidating dialogue between national parliaments, deepening their network, and creating a climate of trust, Bayramov said.
Forging close cooperation with the UN system organizations in areas of common interest will reinforce national efforts to build resilience and enable our countries to be better prepared to respond to common challenges. In this context, a greater focus should be placed on the joint implementation of projects with relevant international and regional organizations.