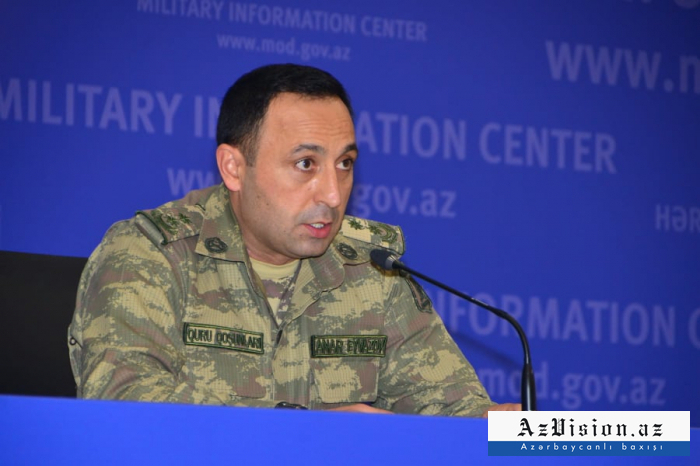 Armenian armed forces fired at the positions of the Azerbaijan Army units and Azerbaijan's residential settlements in different directions of the front with various weapons, including artillery and missiles.
The combat operations continued mainly in the Khojavend, Fuzuli, and Gubadli directions of the front. The Armenian troops' attempts to attack were resolutely prevented, Spokesman for the Azerbaijani Ministry of Defence, Colonel-Lieutenant Anar Eyvazov said at today's briefing.
During the day and at nighttime, a large number of enemy forces, 2 – T-72 tanks, 2 – BM-21 "Grad" MLRS, 14 different types of howitzers, several strongholds, and 6 auto vehicles in different directions of the front were destroyed and wrecked. At about 13:18 and 13:20, the two Su-25 attack aircraft of the Armenian armed forces that attempted to inflict airstrikes on the positions of the Azerbaijan Army in the Gubadli direction of the front were shot down by Azerbaijan Air Defence Units, the spokesperson noted.
As a result of retaliatory measures against the Armenian armed forces in various directions of the front, there are killed and wounded among the Armenian army personnel.
The Armenian armed forces subjected to artillery fire the territory of the Barda Goranboy and Tartar regions.
Armenian Armed Forces resulted in panic in the Armenian society and chaos, mass desertion and arbitrariness in the Armenian army. According to the reports, there are disputes between the volunteers and the military personnel of the Armenia' army units and some use weapons against each other, refuse to enter the battles, withdraw from positions without orders and mass desertion was observed in the military units. The dispute among the servants led to an armed confrontation. Casualties reported.
The reason for the mass withdrawal of Armenian servicemen from the battles is the video footage of the Azerbaijani Army's victories on the battlefield and the destruction of a large number of military equipment and manpower as a result of accurate fire strikes on the enemy.
"Armenian armed forces continue to commit war crimes, grossly violating the norms of international humanitarian law and targeting civilians and civilian infrastructure.
The Azerbaijani Army has only one goal: to liberate all our occupied lands only by destroying legitimate military targets with accurate fire, without harming civilians.
The victory is with us," Eyvazov said.