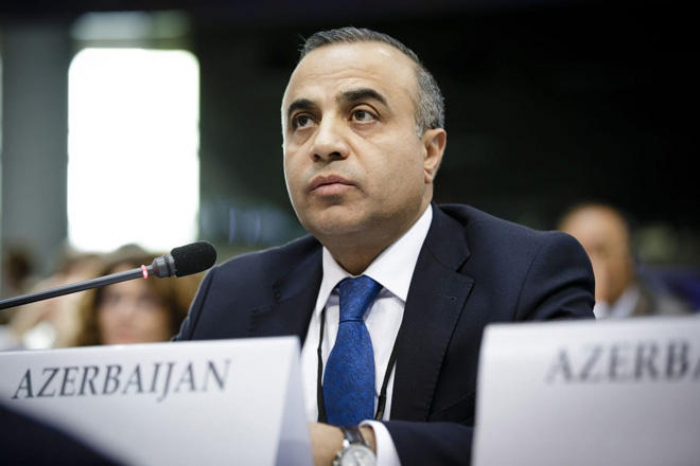 Special Representative of the OSCE PA for South East Europe, Azay Guliyev attended the autumn meeting of the OSCE PA on November 24.
"I am compelled to short my speech on the topic we discuss and to respond to the reckless and groundless accusations made by Armenian delegation against my country," Special Representative of the OSCE PA for South East Europe, Azay Guliyev said during his speech.
"First of all, Azerbaijan never attacked on Armenia or invaded its territories. It is untrue and fabricated propaganda staged by Armenian authority to undermine peace process and blackmail my country. Azerbaijan just repelled Armenian military provocation and neutralized all fire points from where Azerbaijan Army unites and civilians were subjected to artillery attacks. Azerbaijan is not and cannot be interested in the military escalation at all. As a matter of fact, latest hostilities erupted in close proximity of areas where impressive large-scale post-conflict investment, rehabilitation and reconstruction projects are underway," he stated.
"Secondly, claiming that Azerbaijan has committed war crimes and aggression against Armenia, is an example of the hypocrisy of a country that has pursued an aggressive policy and occupied one fifth of Azerbaijani territories for 3 decades. Armenia trampled on the fundamental rights of nearly a million people, committed numerus international crimes such as ethnic cleansing, genocide, crime against humanity and war crimes, disregarded all the norms and principles of international law. Armenia still occupies 8 villages of Azerbaijan and refuses to windthrow the remnant of its military forces from Garabagh Economic zone where Russian Peace keepers have been temporarily deployed, on contrary with the help of RPK Armenia illegally transfers weapons through Lachin road to this area," Azay Guliyev emphasized.
"Does the country like Armenia have a moral right to accuse others after having committed such long list of international crimes? I don't think so. This is why all fuss made by Armenia simply look like ridicules and also sickening. I call on Armenian delegation stop…," Guliyev also added.
Azərbaycan24 sosial şəbəkələrdə
Whatsapp xəttimiz -
070 224 40 25