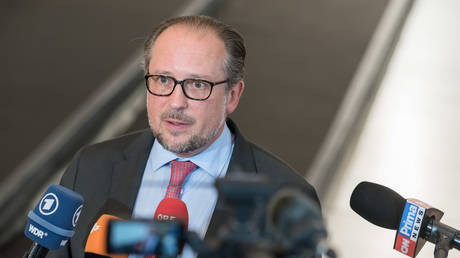 The armaments can do "immense harm" to civilian populations years after a conflict, Vienna has said FILE PHOTO: Austrian Foreign Minister Alexander Schellenberg © Global Look Press / Tomas Tkacik
Vienna strongly opposes providing Kiev with cluster bombs, as they can cause suffering to civilians for many years after the fighting is over, Austrian Foreign Minister Alexander Schallenberg told journalists on Friday.
Schallenberg's comments come amid media reports about Washington's alleged plans to greenlight such deliveries in the near future.
"We have a clear position," the minister said as he arrived at the Organization for Security and Co-operation in Europe (OSCE) Climate Conference. "These are the munition systems that are banned at an international level," he added, comparing cluster munitions to anti-personnel mines.
"Cluster bombs are still lying around for years [after a war has ended]. We have seen this in the Middle East. [They] can inflict immense damage to the civilian population years after a conflict," Schallenberg said.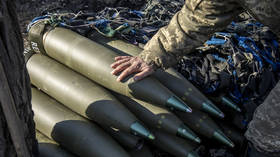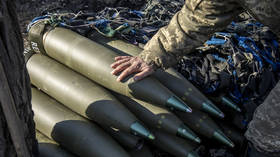 Read more
Human Rights Watch warns US against sending cluster munitions to Ukraine
The Austrian minister also warned Western leaders about the message they would send to the world by supplying Kiev with such controversial armaments. "As the West, we must pay utmost attention to what signals we are sending," he said.
He added that support for Ukraine was necessary, but insisted it "must be correct support."
Western media reports have suggested in recent weeks that Washington is preparing to bolster the Ukrainian army's firepower with cluster munitions from its vast Cold War-era arsenal. According to the various reports, some US officials believe it could help Kiev's troops breach Russia's defenses, as Ukraine's much touted counteroffensive has so far failed to achieve any significant results.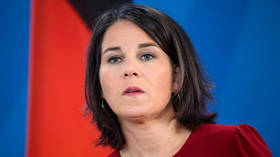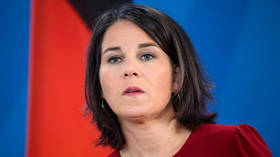 Read more
Berlin downplays FM's statement on cluster munitions for Ukraine
The Pentagon said on Friday that the US was considering providing Ukraine with bombs that have a lower dud rate – the proportion of bomblets that fail to initially explode. The potential decision was criticized by some Western human rights NGOs and even some of Washington's allies.
On Thursday, Human Rights Watch (HRW) spoke against the possible delivery, warning that it would "inevitably cause long-term suffering for civilians." On Friday, German Foreign Minister Annalena Baerbock also expressed a negative attitude to the idea, saying that Germany is sticking to the Oslo agreements that banned cluster munitions.
NATO Secretary General Jens Stoltenberg said, however, that the military bloc does not have a specific position on the issue precisely because its members have different opinions on the matter.
Cluster bombs carry smaller explosive submunitions that are released in flight and scattered across a target area, and are typically used against personnel and lightly armored vehicles. They also tend to leave behind undetonated 'duds' that can remain in former conflict zones for decades. This prompted more than 110 nations, including many NATO members, to ban cluster bombs under a UN convention back in 2008. (RT)
Azərbaycan24 sosial şəbəkələrdə