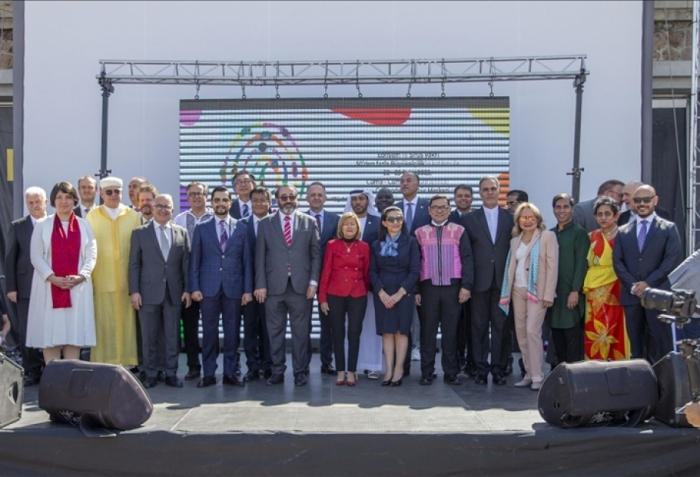 The opening ceremony of the World Cultures Festival 2023, organized with the participation of 55 embassies and the Yunus Emre Institute (YEE), was held Friday at the Cermodern Culture Center in the Turkish capital of Ankara, according to Anadolu Agency.
Deputy Minister of Culture and Tourism Gokhan Yazgi, who attended the opening of the festival, organized by the Ebrisem and Sirus Foundation, visited the stands of different countries and talked to ambassadors at the stand of the United Arab Emirates (UAE).
Yazgi said the festivals are not only platforms that bring together the richness of different cultures but also are symbols of friendship and cooperation.
"In this year's festival, gastronomy, dance, fashion, music and branches of art that reflect their history with their unique features will find their place here as a reflection of our cultural diversity," he said.
Noting that the festival, held with the participation of YEE, will be held around four main topics, Yazgi said it is also important from an international relations perspective.
UAE Ambassador to Ankara Said Sani al-Zahiri said his country has great richness in terms of Arab and Islamic historical heritage.
Explaining that the UAE hosts people from more than 200 nationalities, Zahiri pointed out that it hosts more than 15 million tourists annually.
South Korea's Ambassador to Ankara Lee Won-Ik said the World Cultures Festival is a very meaningful event.
Iran's Ambassador to Ankara Muhammed Hasan Habibullahzade said the festival is an event where nations show their love and appreciation for each other. "This festival, where world cultures come together, is the basis for getting to know cultures and people better and for people to have more respect and love for each other," he said.
Arab League Turkey Representative Ambassador Abdulhamid Hamza pointed out that the festival is not just a celebration of art, music, dance and traditions. "Every rhythm we danced today, every song we sang, every food we tasted tells a unique story," he said.
Ambassador Korhan Karakoc, general director of Global and Humanitarian Affairs of the Ministry of Foreign Affairs, said this year's festival coincides with the 100th anniversary of the Republic of Türkiye and it is very valuable and meaningful.
Sirus Foundation President Serap Gürkan Firdevsi said 30 embassies, including at least three to four countries from each continent, participated in the festival, which was held for the first time last year, and this year, 55 countries, including eight to 10 from each continent participated.
Following speeches, traditional dance performances from South Korea and the UAE were performed.
The festival program, which consists of public and completely free events, includes traditional dances from 55 countries, music recitals and concerts, clothing fashion shows, art workshops, gastronomy workshops, traditional food offerings, cultural interviews, national promotional videos, films, competitions and raffle programs.
The festival, which was held under the theme: "100th Anniversary of the Republic of Türkiye and Gordion," also included a painting exhibition consisting of the personal works of Mehmet Gunay, Deputy General Director of Foreign Promotion of the Ministry of Foreign Affairs, and various antiques from the personal collection of Osman Ilhan Sener, Deputy General Director of Cultural Diplomacy of the Ministry of Foreign Affairs. There are also works about archery, a traditional Turkish sport.
The event, which started Friday and is free to attend, will continue Saturday.
Azərbaycan24 sosial şəbəkələrdə