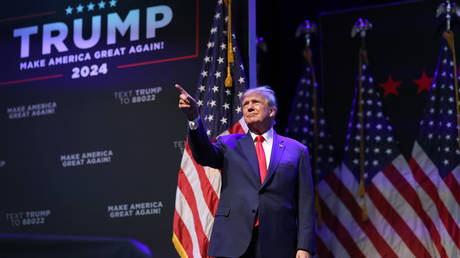 The former US president has predicted he will be detained on Tuesday on a charge of falsifying business records © Getty Images / Scott Olson
If former US President Donald Trump is arrested next week, he will win the 2024 election in a "landslide victory," Twitter owner Elon Musk tweeted on Saturday in response to a Fox News clip discussing the possibility of the former president being "handcuffed" and processed through the New York City court system.
"If this happens, Trump will be re-elected in a landslide victory," Musk said in the tweet, a reply to a similar – though less emphatic – prediction from Canadian lawyer @thevivafrei.
The opinion that this scenario might propel the former reality TV star back into the White House is not an uncommon one, and appears to be shared by Trump himself. He alerted his followers to his impending arrest on Truth Social on Saturday, urging them to "protest, take our nation back!" His post highlights that the Manhattan District Attorney's office is discussing security for such an eventuality, perhaps suggesting that the authorities may be wary of the response of Trump's followers.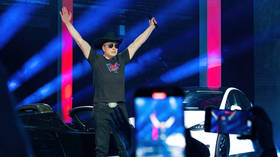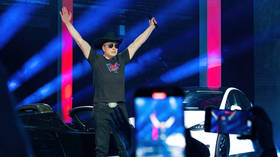 Read more
Elon Musk's plans for SpaceX 'utopia' revealed – WSJ
The predicted indictment of the former president on what are expected to be campaign finance violation charges would be the first of its kind in US history. Even former President Richard Nixon was not prosecuted after he resigned from office following the Watergate scandal.
Trump's lawyer has accused prosecutor Alvin Bragg, the Manhattan district attorney, of having "weaponized" the legal system, leveraging a misdemeanor charge that federal prosecutors did not deem worthy of prosecution into a felony. If he is found guilty before November 2024, it could potentially keep him from the White House.
When the FBI staged a nighttime raid on Trump's Mar-a-Lago Florida estate last summer, the New York Times expressed concern that the agency's heavy-handed tactics would galvanize the former president's base, with the resulting electoral turmoil not only allowing Republicans to seize control of Congress, but handing Trump the 2024 nomination on a silver platter.
While Republicans did take back the House of Representatives, the midterms fell short of the partisan rout expected by many on the right, with the Senate remaining in Democratic hands. Although incumbent President Joe Biden's approval rating hovers near record lows, even among those in his own party, most polls pitting him against Trump have Biden leading by a handful of points. An arrest could easily push Trump over the top, according to Musk and many others. (RT)
Azərbaycan24 sosial şəbəkələrdə