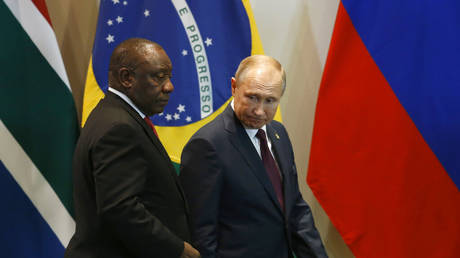 Those behind the decision are eager to maintain their position in commerce and trade, Andre Thomashausen has told RT FILE PHOTO: South Africa's President Cyril Ramaphosa, left, and Russia's President Vladimir Putin, arrive for the Leaders Dialogue with BRICS Business Council and the New Development Bank, at the Itamaraty Palace in Brasilia, Brazil, Thursday, Nov. 14, 2019. © AP Photo /Eraldo Peres
Issuing an arrest warrant for Russian President Vladimir Putin is nothing but "a political provocation," international law specialist Andre Thomashausen has told RT.
According to him, those behind the decision are trying to "maintain trading and commerce privilege."
In March, the International Criminal Court called for the arrest of Putin and Russian children's rights commissioner Maria Lvova-Belova, accusing them of the "forcible transfer of population," referring to Moscow's efforts to evacuate children from the combat zone. Moscow responded by saying the ICC has no authority or legitimacy, as Russia never ratified the 1998 Rome Statute that established the court. Russian authorities have also initiated criminal proceedings against the ICC's head prosecutor and three judges involved with the warrant.
The ICC move cast a shadow over the upcoming BRICS summit, which is scheduled for August and will be hosted by South Africa. The country's officials have produced mixed signals on the prospect of enforcing the warrant.
The decolonization of South Africa has led to "the perpetuation of economic dependency," while as much as 70% of the economy of the country "is dominated by British and American and other European capital," said Thomashausen, who spoke to RT as the continent marked Africa Day. "The banking system is completely orientated and controlled by them," he added.
South Africa, host of the upcoming BRICS summit, is trying to be neutral, and now the country is "at the forefront of an African peace initiative for Ukraine," he said.
.mediaplayer { min-height: 150px; } .jwplayer .jw-controls .jw-controlbar .jw-icon-cc { display: none; }
.media__video_noscript { position: absolute; top: 0; left: 0; right: 0; bottom: 0; height: 100%; width: 100%; } .full_transcript_text { display: block; }
Azərbaycan24 sosial şəbəkələrdə