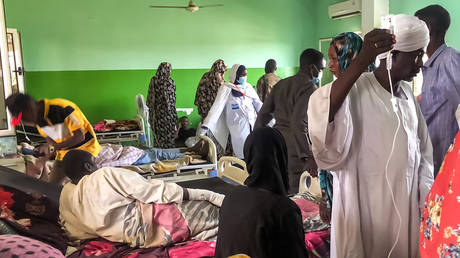 A diaspora organization has called for action amid a worsening humanitarian situation A handout picture taken on April 19, 2023 and obtained from Doctors Without Borders (MSF) on April 21 shows a crowded ward at a hospital in El Fasher in Sudan's North Darfur region, where multiple people have been wounded in ongoing battles there. © Ali SHUKUR / Médecins sans Frontières (MSF) / AFP
The arrest of two doctors in Sudan is "against all international laws during war," the president and spokesperson of the Sudan Doctors Trade Union in Canada, Dr. Syed Mohamed Abdullah, has told RT.
The detentions of Dr. Alaa Eldin Nogoud, a prominent surgeon and activist, and Magdi Wasfi, a senior surgeon and retired military officer, came amid a deteriorating situation in the country.
"The Doctors' Coalition demands the release of those arrested under the provisions of the ceasefire agreement," Dr. Syed said. "We condemn that and we ask everybody in the international community to join us and condemn that and to call stop this war," he added.
According to Dr. Syed, the dire humanitarian situation needs to be addressed, as almost 70% of hospitals in the conflict zone areas, especially in Khartoum and in West Sudan, are completely out of service.
Azərbaycan24 sosial şəbəkələrdə