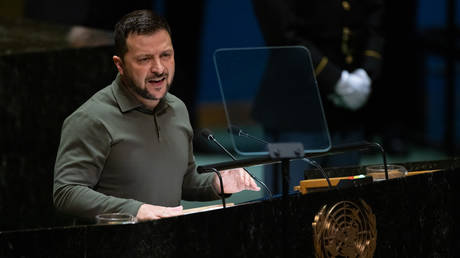 It was unlikely to endure, and here's how Kiev and Warsaw's bromance of convenience came to a dramatic end Rachel Marsden is a columnist, political strategist, and host of independently produced talk-shows in French and English.Rachel Marsden is a columnist, political strategist, and host of independently produced talk-shows in French and English.rachelmarsden.comPresident of Ukraine Volodymyr Zelensky addresses the 78th session of the United Nations General Assembly (UNGA) at U.N. headquarters on September 19, 2023 in New York City. © Adam Gray/Getty Images
Ukraine and Poland's relationship has apparently reached the throwing toys out of the pram phase. Speaking to the United Nations General Assembly this week, President Vladimir Zelensky said it was "alarming to see how some in Europe… are helping set the stage for a Moscow actor." Who could he have been talking about?
"I hope these words are not addressed to Poland," replied a Polish government spokesman. If you have to ask yourself the question, you probably already know the answer. Yep, Zelensky is accusing Poland of cheating – with Russia. This is about as realistic as accusing Johnny Depp of a dalliance with Amber Heard – post-divorce and defamation trial.
It seems like just yesterday that Poland was bullying its fellow European Union member states to cough up gifts of weapons for Zelensky. Back in May, it managed to get Denmark and Finland on board with sending their German Leopard tanks to Kiev and browbeat Berlin for dragging its feet on giving permission to re-export the vehicles. "Even if, eventually, we do not get this permission, we – within this small coalition – even if Germany is not in this coalition, we will hand over our tanks, together with the others, to Ukraine," declared Polish Prime Minister Mateusz Morawiecki at the time.
Fast forward to this week. "We are no longer transferring weapons to Ukraine because we are now arming Poland with more modern weapons," Morawiecki said. In other words, Warsaw has decided that it needs to focus on itself. Isn't that what every exasperated partner says after spending time on a therapist's couch and coming to their senses?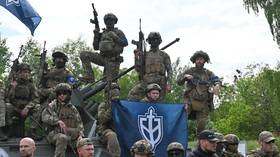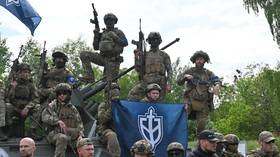 Read more
Zelensky's terror team: Why the West looks the other way when Ukraine's secret murder squad kills journalists and activists
Last week, Poland withdrew – along with Hungary and Slovakia – from the EU's platform to coordinate Ukrainian grain imports. Sources claimed that the countries feared that details from any such involvement could be used against them in a lawsuit that Kiev filed earlier this week. This was at the World Trade Organization in response to them maintaining their bans on Ukrainian grain imports despite Brussels' decision to lift them on September 15.
Thus, Poland has gone from loudly proclaiming its love for Kiev to suddenly acting like a party to a potentially messy divorce, now taking self-preservation measures against a toxic partner. One who keeps making demands even when you say "no." And that's exactly what these countries did by insisting that Ukraine's grain be banned lest it compete with their own farmers' produce, driving its value down – and not even a month before the next Polish parliamentary election on October 15.
Instead of trying to see the situation from these countries' perspectives, Kiev blew a gasket. "The systemic approach of Budapest and Warsaw of ignoring the position of the EU institutions in trade policy, I think that will be a problem for the EU in general because there is no unity there," said Taras Kachka, a trade representative. Kiev is acting like it can't understand why Brussels is backing the three while it keeps stringing Ukraine along with promises of commitment.
It's because they're in a binding relationship with the EU. By contrast, you're a side piece hoping for a ring and using toxic tactics to try to manipulate everyone into getting whatever you want all the time.
The gloves have really come off now, though, with Ukraine daring to suggest that the EU isn't united. That threatens to ruin the main theme of unelected European Commission President Ursula von der Leyen's virtue signaling.
Kiev is now doubling down on the psycho-ex vibe by threatening that unless the unilateral bans on grain are lifted, it will go after Polish apples and onions and Hungarian cars with retaliatory restrictions. (Why do bad breakups always have to target innocent cars – whether it's keying/scratching, smashing, or blocking?) Poland has since pushed back in a tit-for-tat. "I warn the Ukrainian authorities because if they escalate this conflict in this way, we will add more products to the ban on import into the territory of the Republic of Poland," Prime Minister Morawiecki said on Wednesday.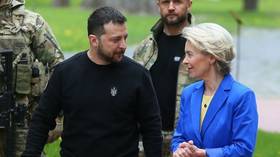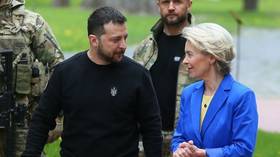 Read more
Gamed by Zelensky: How Ukraine uses toxic pick-up tactics in disrespecting its Western backers to get what it wants
Where's the EU in all of this, you might ask? Brussels is currently busy ducking criticism from its own member states for lifting the ban on Ukrainian grain, with Hungarian Agriculture Minister Istvan Nagy underscoring, in the wake of a meeting of the bloc's agriculture ministers, that von der Leyen consulted on this topic not with the leaders of member states, but with the Ukrainian president. He has also suggested that the EU was selling out its farmers in favor of Saudi, American, and Dutch investments in Ukrainian grain production. Not that this would be the first time that the EU screwed over itself and its people to benefit American interests, using Ukraine as a pretext. Just ask the millions of European citizens currently struggling to pay for the bloc's decision to replace cheap Russian energy with much pricier liquified natural gas from the US.
Poland has led the way in defying Queen Ursula, with the payoff being that it isn't having to contend with the kind of protests that Bulgarian officials are now facing, having complied with Brussels' lifting of the grain ban. Bulgarian farmers blocked highways and border crossings earlier this week. At least so far, it seems that Brussels really doesn't want to get too deeply involved in the crossfire as Poland and Ukraine throw their tantrums.
Kiev did suddenly acknowledge "close and constructive ties" with Warsaw on Thursday, after a phone call between their agriculture ministers and "agreed to work out an option to cooperate on export issues in near future." Sounds like someone's suddenly concerned what the neighbors might think and making an effort to keep up appearances.
The statements, views and opinions expressed in this column are solely those of the author and do not necessarily represent those of RT.
Azərbaycan24 sosial şəbəkələrdə