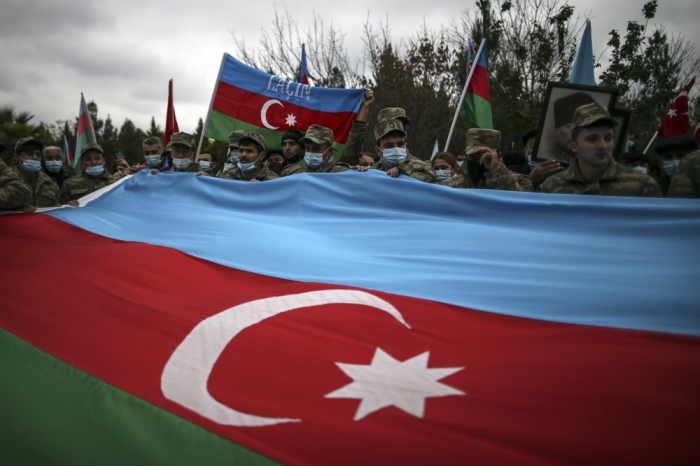 Associated Press has published an article highlighting Azerbaijani political success in reclaiming territories occupied by Armenia nearly 30 years ago.
In an article named "Azerbaijan fully reclaims lands around Nagorno-Karabakh", Azerbaijan on Tuesday (Dec. 1, 2020) completed reclaiming territory ceded by Armenia under a Russia-brokered peace deal that ended six weeks of fierce fighting over the Nagorno-Karabakh conflict.
The article noted that the peace agreement was celebrated as a victory in Azerbaijan, but sparked mass protests in Armenia, with thousands taking to the streets to demand the ouster of the country's prime minister.
As Armenian forces ceded control of the Aghdam and the Kalbajar regions after the peace deal, some Azerbaijani residents who fled them more than a quarter-century ago also started trickling back to the territories.
Gurban Hasanov, 56, who was forced to flee Lachin 26 years ago with his family, said he's longing to come back.
"I and all my family dream to return to our native village," he told The Associated Press. "I lack words to explain how badly we want to come back. I'm a teacher, and I want to teach children geography."
Hasanov said he recently saw his village on video with his house intact — one of just a dozen that have survived.
Before the territories' handover, some ethnic Armenians set houses on fire.
"I hope the Armenians didn't burn it as they did in the Kalbajar region," he said.
Following over a month of military action to liberate its territories from Armenian occupation, Azerbaijan has pushed Armenia to sign the surrender document. A joint statement on the matter was made by the Azerbaijani president, Armenia's PM, and the president of Russia.
A complete ceasefire and a cessation of all hostilities in the zone of the Nagorno-Karabakh conflict is introduced at 00:00 hours (Moscow time) on 10 November 2020.
Armenian Armed Forces launched a large-scale military attack on positions of the Azerbaijani army on the front line, using large-caliber weapons, mortars, and artillery on Sept. 27. Azerbaijan responded with a counter-offensive along the entire front.
Back in July 2020, the Armenian Armed Forces violated the ceasefire in the direction of Azerbaijan's Tovuz district. As a result of Azerbaijan's retaliation, the opposing forces were silenced. The fighting continued the following days as well. Azerbaijan lost a number of military personnel members, who died fighting off the attacks of the Armenian Armed Forces.
The conflict between the two South Caucasus countries began in 1988 when Armenia made territorial claims against Azerbaijan. As a result of the ensuing war, the Armenian Armed Forces occupied 20 percent of Azerbaijan, including the Nagorno-Karabakh region and seven surrounding districts. The 1994 ceasefire agreement was followed by peace negotiations.