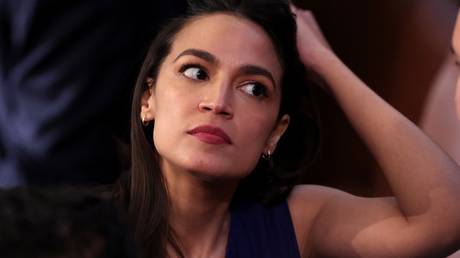 Singing protesters interrupted Alexandria Ocasio-Cortez's town hall event to demand an end to the arms shipments Alexandria Ocasio-Cortez (D-NY) waits as the House of Representatives holds the election for Speaker of the House on Capitol Hill in Washington, DC, January 3, 2023 © AFP / Win McNamee
US Rep. Alexandria Ocasio-Cortez (D-NY) had an event in New York on Saturday disrupted by a group of demonstrators who rose to their feet and began singing a Latin hymn for peace. The protestors were voicing their objection to the self-professed progressive's vote to send billions of dollars worth of weapons to Ukraine.
Holding signs reading "negotiation not annihilation" and "stop sending weapons to Ukraine," the group sang 'Dona Nobis Pacem', a Latin hymn used in the Catholic mass that translates as 'Give Us Peace'.
"We always support everyone's First Amendment rights here and everyone has the complete right to political expression," Ocasio-Cortez responded, but only after the protesters had been removed from the premises by security.
A member of the Congressional Progressive Caucus, Ocasio-Cortez has voted against sending military aid to Saudi Arabia and abstained from voting on funding Israel's Iron Dome missile defense system. However, she voted in May to provide Ukraine with $40 billion in military and economic aid, a decision that led a left-wing activist to accuse her of "voting to start a nuclear war" during a similar town hall in October.
Despite giving a green light to such a massive arms fund, Ocasio-Cortez added her name to a letter by Congressional Progressive Caucus chair Pramila Jayapal in October urging President Joe Biden to "seriously explore all possible avenues, including direct engagement with Russia, to reduce harm and support Ukraine in achieving a peaceful settlement."
The letter, which was signed by 30 House Democrats, was retracted a day later and the pro-peace progressives stated that they backed Biden's policy of indefinite military aid to Kiev.
(RT)
Azərbaycan24 sosial şəbəkələrdə