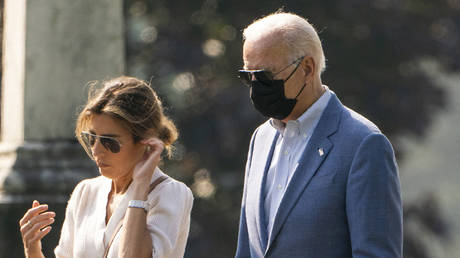 The president's daughter-in-law received tens of thousands of dollars from a Chinese energy firm, bank records released by Republican lawmakers show Hallie and Joe Biden leave St. Joseph on the Brandywine Catholic Church in Wilmington, Delaware, October 3, 2021 © AP / Manuel Balce Ceneta
President Joe Biden's daughter-in-law was one of three Biden family members to receive a share of a $3 million payment from a Chinese energy company, according to bank records obtained by GOP lawmakers. Hallie Biden was previously thought to be unconnected to Joe and Hunter Biden's foreign business dealings.
Released by the Republican-controlled House Oversight Committee on Thursday, the records show that a Biden family associate named Rob Walker received a bank transfer of $3 million from CEFC China Energy in March of 2017, two months after Joe Biden's vice presidency ended.
Over the next two months, Walker transferred more than a million dollars to a company owned by James Gilliar, a business partner of Joe Biden's son, Hunter. The same amount was distributed between Hallie Biden, Hunter Biden, James Biden (Joe Biden's brother), and an unknown family account simply marked "Biden." Hallie Biden received the smallest share at $35,000.
Rob Walker also made payments of almost $180,000 to himself and the Biden family while Joe Biden was vice president, the records show. The money came from an unidentified overseas bank account.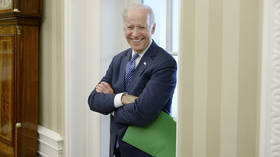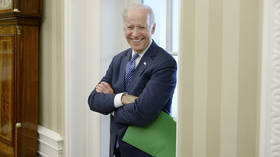 Read more
Biden sibling denies Saudi deal link
Hallie Biden is the widow of the president's late son, Beau, who died in 2015. Following Beau's death, she dated Hunter Biden, and according to files found on the president's son's laptop, allegedly helped her lover dispose of a gun in 2018.
The Republican-run committee said in a memo that it would now focus on establishing "what services the Biden family members provided to the China company," why "Hallie Biden – publicly reported to work as a school counselor – received money," and who the account holder of the mysterious "Biden" account is.
Hunter Biden's dealings with CEFC China Energy were already disclosed in multiple leaks from his laptop – which was discovered in a Delaware computer repair shop and given to the Trump campaign before the 2020 election. The president's son reportedly agreed to take $10 million per year from the Chinese company for "introductions," while 10% of the profit from a joint company set up with CEFC chairman Ye Jianming stood to go to "the big guy," a title that one of Hunter's associates said refers to Joe Biden.
A White House spokesman accused the committee of "bizarrely attacking" the Biden family, while a spokesperson for Hunter Biden acknowledged the payments, stating that Hunter shared the funds with his family in "good faith."
The oversight committee, led by Rep. James Comer, is also reviewing Biden family transactions marked as "suspicious" by the Treasury Department, and sales records for Hunter Biden's paintings, which were sold for as much as $500,000 each to anonymous buyers in 2021. (RT)
Azərbaycan24 sosial şəbəkələrdə