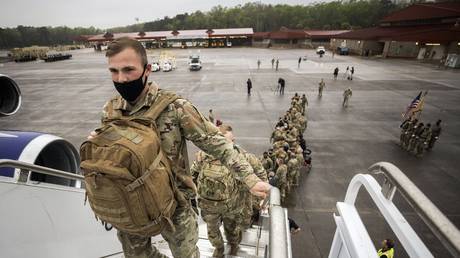 Both the US and EU have ruled out the deployment of individual NATO members' forces against Russia FILE PHOTO: Soldiers with the US. Army's 87th Division Sustainment Support Battalion deploy to Europe at, Hunter Army Airfield in Savannah, Georgia, March 11, 2022 © AP / Stephen Morton
US President Joe Biden has no intention of sending American troops to Ukraine, State Department spokesman Matthew Miller told reporters on Thursday. However, while its forces may not be openly fighting Russians, an unknown number of US military personnel are reported active in the zone of hostilities.
"The president has been very clear that US troops will not be on the ground in Ukraine," Miller said at a press briefing in Washington.
Miller had been asked whether the US supported former NATO secretary general Anders Fogh Rasmussen's suggestion earlier this month that individual NATO members – likely Poland and the Baltic states – could deploy troops to Ukraine without involving the entire bloc. Rasmussen said that such a scenario would be likely if NATO fails to agree on "security guarantees" for Ukraine at a summit next month in Lithuania.
Miller's answer did not directly address the issue of a potential Polish or Baltic mission to Ukraine.
Meanwhile, the EU has rejected the idea of any such mission. "To send ground troops to Ukraine is to be a party in a war, to be at war with Russia, and nobody wants that, neither the EU, nor NATO," the director general of the European Union Military Staff, Vice Admiral Herve Blejean, said two weeks ago.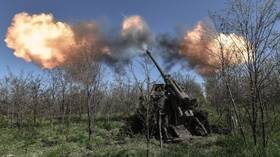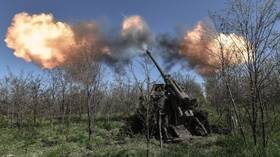 Read more
Ukraine will need 117 years to take territories from Russia – Seymour Hersh
Despite Miller's insistence that the US will stay at arm's length from the Ukrainian conflict, US forces are already operating in the country. The Pentagon acknowledged in November that a "small number" of American troops were guarding the US embassy in Kiev and inspecting weapons deliveries away from the front lines. In April, leaked Pentagon documents suggested that 14 US special forces personnel were deployed in Ukraine as of mid-March, along with 50 from the UK.
Aside from active-duty troops, there are an unknown number of US citizens fighting alongside Kiev's forces. Multiple Americans have been captured by Russian soldiers, and several hundred were listed as fighting in Ukraine by Russia last summer.
The Russian Defense Ministry said on Thursday that as many as "20 foreign mercenaries and military advisers" were killed in a missile strike on a temporary base of the Ukrainian Armed Forces in the Donbass city of Kramatorsk on Tuesday. Unverified images and videos circulating on social media after the strike purportedly showed English-speaking military personnel in American uniforms recovering the dead and wounded from the base.
Moscow already considers the US and NATO to be involved in the conflict by proxy, with Russian President Vladimir Putin accusing the West last week of waging war against Russia "to the last Ukrainian." (RT)
Azərbaycan24 sosial şəbəkələrdə