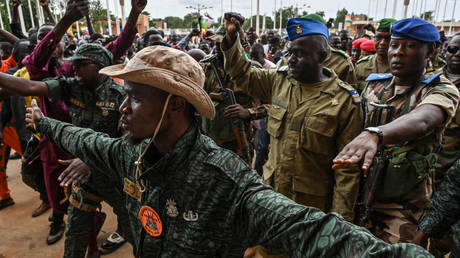 ECOWAS intervention in Niger risks a continental conflict, the ousted leader's adviser has warned File photo: Representatives of Niger's new military government arrive at a rally in Niamey, August 6, 2023.
A military intervention in Niger could set off a broader war, Antinekar al-Hassan, a political adviser to the ousted President Mohamed Bazoum, told RIA Novosti on Wednesday.
"I don't think ECOWAS will make the mistake of intervening militarily in Niger, because if they intervene militarily, that means all of Africa will be at war," al-Hassan said.
Bazum was arrested on July 26, by a group of Nigerien military officers led by General Abdourahamane Tchiani. The Economic Community of West African States (ECOWAS) has threatened to deploy troops unless he was restored to power, but their ultimatum to Niamey expired on Sunday.
In the meantime, the bloc has closed borders and stopped all trade and transactions with Niger. Al-Hassan said he was against these sanctions, calling them "illegal and illegitimate."
"We're against the sanctions. They will hurt the people of Niger, not the junta," he said.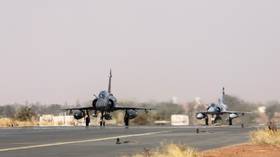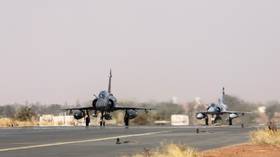 Read more
France violated Nigerien airspace – military rulers
The new military government has refused any talks with the ousted president, who has no intent of stepping down, according to al-Hassan. "He did not sign anything and is not preparing to resign. He would rather die than resign," al-Hassan said.
In an op-ed supposedly written from prison and published in the Washington Post on August 4, Bazoum had appealed to the "US government and the entire international community to help us restore our constitutional order."
ECOWAS military chiefs reportedly finalized their war plans last Friday, but noted the actual intervention requires a political decision by the bloc's governments. Chad and Guinea have opposed both sanctions and intervention in Niger, while Burkina Faso and Mali said they would regard any military move against Niamey as a declaration of war against both of them as well.
According to the French broadcaster RFI, which was banned in Niger, ECOWAS was mustering a force of about 25,000 troops, most of them from neighboring Nigeria.
The new military government in Niamey accused France on Wednesday of setting free terrorists so they could attack a military camp in Niger and violating the country's airspace as part of a campaign of destabilization.
Paris denied that any terrorists were set free, or that any attack took place, and insisted the French aircraft were operating in Nigerien airspace under a military pact with Bazoum's government. France refused to recognize the generals' repudiation of the deal last week, and vowed to keep some 1,500 troops in the Sahel country. (RT)
Azərbaycan24 sosial şəbəkələrdə