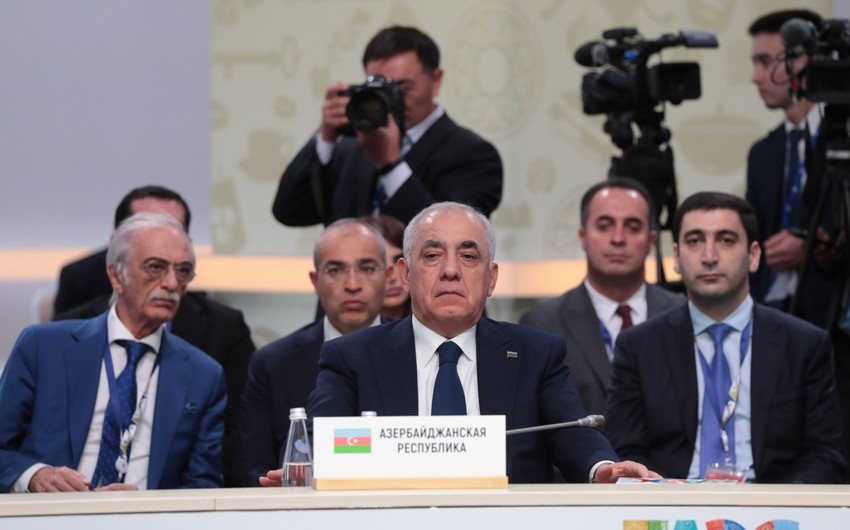 "We have created all the conditions for a foreign investor to feel comfortable in Azerbaijan," Prime Minister of Azerbaijan Ali Asadov said while speaking as a guest at a meeting of the Eurasian Intergovernmental Council in an expanded format in Sochi on June 8, Report informs.
The prime minister noted the importance of Azerbaijani President Ilham Aliyev's participation as a guest in the meeting of the Supreme Eurasian Economic Council in an expanded format, which took place at the end of last month in Moscow.
Ali Asadov said that the development of bilateral and multilateral cooperation with partners in the Eurasian Economic Union (EAEU) is one of the priorities of Azerbaijan's foreign policy.
It was emphasized that the fundamental vector of relations is trade and economic cooperation.
"According to the results of last year, Azerbaijan's trade turnover with the EAEU countries increased by 31% and reached $4.7 billion. The share of the EAEU member countries in Azerbaijan's foreign trade turnover amounted to about 9%. In January-April 2023, the increase in trade turnover amounted to 38%," the prime minister said.
Noting the positive dynamics of mutual investments with the EAEU member countries, Ali Asadov briefed the meeting participants about the favorable investment climate in Azerbaijan.
Touching upon the partnership in the transport sector, Ali Asadov noted that cardinal changes in global geopolitics led to the forced restructuring of logistics chains and flows by many countries.
"Against this background, the relevance of transport and transit corridors passing through the territories of our states is growing," the prime minister said, stressing that the cargo flow through the territory of Azerbaijan is growing at a steady pace. "Following the results of 2022, the increase was 75%. In January-April of this year, the volume of transit traffic increased by 26%."
It was stressed that Azerbaijan is an important link in the East-West, North-South and Middle Corridor transport routes.
Drawing the attention of the members of the EAEU Intergovernmental Council to the work done by Azerbaijan for the development of transport infrastructure, the prime minister said that over the past 20 years, thousands of kilometers of roads and railways have been built or overhauled in the country:
"Today we are investing in the creation of an extensive network of roads and railways in the liberated Karabakh, connecting the northern transport networks with the southern and eastern networks."
It was noted that the construction of the 9th international airport on the territory of Azerbaijan, which will be put into operation in Lachin in 2025, is proceeding at a high pace, and work continues to increase the capacity of the Baku International Sea Trade Port.
"All these measures will significantly increase the transit potential of Azerbaijan in order to manage the growing volumes of traffic and ensure the uninterrupted operation of international transport corridors."
Azərbaycan24 sosial şəbəkələrdə