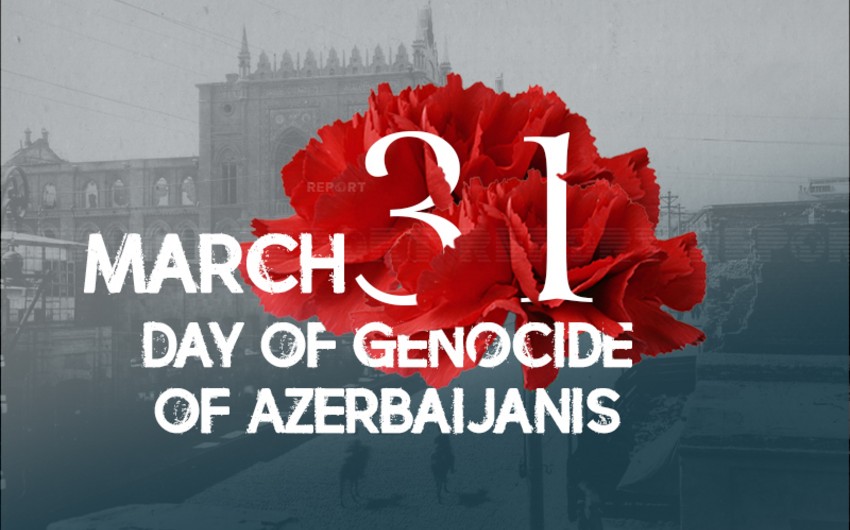 105 years have passed since the Armenian Dashnaks committed the act of genocide against Azerbaijanis together with the Bolsheviks, Report informs.
The tragedies of the Azerbaijani people in the region started with the division of the Azerbaijani people and their historical lands under the Treaty of Gulistan (1813) and the Treaty of Turkmenchay (1828), which was followed by the process of expropriation of these lands. In a short period of time, Armenians were resettled en masse to the lands of Azerbaijan. Inspired by the dream of creating a "Great Armenia", Armenian usurpers carried out a series of mass massacres against Azerbaijanis.
The bloodiest of these events occurred on March 31, 1918. Taking advantage of the February and October 1917 coups in Russia, the Armenians managed to implement their smeary plans under the Bolshevik flag. From March 1918, the Baku commune, under the guise of a struggle against counter-revolutionary elements, began to implement their nefarious plans to clear the Baku province of Azerbaijanis.
On these days, the Baku Soviet and the armed formations of the Armenian Dashnaks committed genocide against the Azerbaijani people in Baku, in various parts of the Baku province, as well as in Shamakhi, Guba, Khachmaz, Lankaran, Hajigabul, Salyan, Zangazur, Karabakh, Nakhchivan and other territories of the country. Nearly 12,000 Azerbaijanis were killed, and tens of thousands of people were missing.
The Azerbaijan Democratic Republic twice marked March 31, 1919, and 1920 as a national mourning day. After Azerbaijan gained independence, it became possible to create an objective picture of our people's historical past. The decree "On the genocide of Azerbaijanis" signed on March 26, 1998, by national leader Heydar Aliyev gave a political assessment of these events and for the first time officially announced the genocide of Azerbaijanis committed by Armenians.
In 2013, the Guba Genocide Memorial Complex was erected in Guba in memory of the Azerbaijanis who died as a result of the massacres perpetrated by Bolshevik-Armenian armed groups on Azerbaijani lands.
As a result of the research, it was determined that the cemetery was related to the genocide committed by Armenians against the local civilian population in 1918. The remains of hundreds of bodies of different age groups were discovered in the cemetery. Along with the Azerbaijanis, representatives of the Lezgi, Jewish, Tat, and other ethnic groups living compactly in Guba were mercilessly killed and buried in the cemetery.
The President of Azerbaijan, Ilham Aliyev, who attended the opening of the Guba Genocide Memorial Complex, said: "Of course, due to the fact that history was falsified in Soviet times, this was concealed from us. For many years, the thugs who shed the blood of the Azerbaijani people – their cursed names are indicated there, e.g. Shaumyan and others like him were portrayed to us as heroes. I think this is a great tragedy. For many years, those who unleashed atrocities against our people were described in Soviet history as heroes, and statues of them were erected in many places. Only in the years of independence restored justice. We have cleared our beautiful city, our Baku from these statues, and today there are beautiful parks, including Sahil Park, in their place. In other words, history and justice have prevailed. Today we go back to our history. We know and should know all aspects of our history. The younger generation also needs to know what disasters our nation was faced with in the past."
Azərbaycan24 sosial şəbəkələrdə